Private    Non-Dealer    Local Buyer
Portland Gun Buyer
CA$H  FOR  GUNS
&
Ammo
PortlandGunBuyer.com
Portland Gun Buyer  –  Cash for Guns and Ammunition
971-322-0297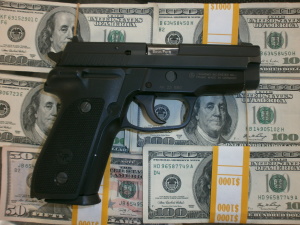 Do You Have Any Guns or Ammo for sale?
I PAY CASH IMMEDIATELY
Always Buying:
Firearms

Ammunition

Reloading Supplies

Optics

Shooting Supplies
Often Interested In:
Hunting Supplies

Archery Equipment
How it Works
Sell Your Guns and / or Ammo in (3)  Easy Steps
1-  You Contact Me
Call  971-322-0297    or  email  sell@portlandgunbuyer.com
Inform me of what guns and ammo you want to sell   –  Have all the info

I will make you an offer by phone subject to confirmation (physical gun and / or ammo inspection)

If the offer works for you,

then we meet
2-  We Meet
We meet in a private office downtown Portland, or a local gun range

I will ask for identification

(driver license, state ID, or CHL permit)
I will inspect the guns and ammo

If all checks out, I will confirm the offer, or make adjustments

If that works for you, we will complete a bill of sale for firearms

Non-firearm items don't require bill of sale, but we can create one too if you wish
3- You Get Cash
       

I will pay you cash immediately
 Questions and Answers
What Kind of Firearms do I Buy?
I am interested in quality, modern firearms of all types.
Revolvers

Rifles  –  All Types

Semi Auto Pistols

Shot Guns  –  All Types
Let me know what you have.  If it is not of my personal interest, I will say it right away.  If I am interested, after a few questions, and maybe some research, I will make you an immediate cash offer for your gun.
What are the Main Brands I am Looking for?
 I am interested in well made guns, that are made to be fired a lot.  There are dozens name brand manufacturers.   For the most part, gun manufacturers make firearms that are quality competitive within their price range.   
Guns for Occasional Use
Some guns are made for the occasional user.  Some call this "entry level guns".  These firearms are meant for those who  do not shoot much, or hardly ever shoots at all.  This type of guns are usually less expensive but good enough for their purpose.  They better than do a good job for the occasional user.  For such individuals, anything above that is an overkill.  There is nothing wrong with this type of firearm or user.  
High Usage Guns
These are guns made to be fired a lot.  Their are robustly build, can take all kinds of punishment in addition to plenty of use.  Consequently, these guns are more expensive.  For an avid shooter, anything below this grade will not work out.
I buy firearms for my own enjoyment.  I like to pop rounds.  I use any gun that I buy at least a few hundred rounds.  Below is a partial list of the most popular and reputable manufacturers.  There are too many to list them all.  Let me know what kind of firearm do you want to sell.  I will make you an immediate cash offer for your gun.
Most Reputable Firearm Brands
Sig Sauer

Colt

Smith & Wesson

Ruger

Glock

Kimber

Remington

Walther

Springfield Armory

Browning
There are too many great manufacturers to mention here, but this will give you an idea.  For the most part,  I am a quality gun buyer, but will entertain entry level guns too.
Are You a Private Individual, or a Gun Shop?
I am a private buyer.  Not a gun dealer.  This is a hobby.  The firearms and ammunition I buy are for my own personal use.  Shooting is a hobby for me.   I use what I buy.
What are the Regulations for Selling Firearms?
Presently, in the state of Oregon, all firearm sales need to be completed through an FFL.  According to state of Oregon law, firearm "private sales" Are no longer legal.  Private sales are firearm ownership transfers between individuals with no paperwork.  
According to the ATF (Alcohol, Tobacco and Firearms Bureau) what I do qualifies as "Hobby".   Under this classification, no permit is needed.  The ATF does not issue permits for hobby gun buyers.  All I need to do is complete my sales transaction through an FFL. 
What are the Regulations for Selling Ammunition?
None.   As of now, in Oregon and Washington, anyone can buy and sell ammo.  If you have ammo, you own it, it is yours and you can sell it or shoot it.
 I am in Washington, can I Sell you a Gun? 
I can buy a gun from you if you are in the state of Washington.  However, for this, we will have to go through an FFL type of dealer.  For this to happen, you need to bring the firearm to an FFL dealer in Oregon for me to purchase your bun.  This applies to whatever state you are in if you want to sell me a gun.
What is an FLL dealer?
An FFL dealer is a business, or individual, with a Federal Firearms License issued by the ATF.   That type of license is needed for dealing with firearms across state borders.  A background check is required.  I am not an FFL dealer.  For that kind of service, we can go to a gun shop.  I know plenty.  
Why Should I Sell My Guns & Ammo to You?
You need to sell your firearms and ammunition to whoever pays you the most, treats you the best, and you are more comfortable dealing with.  I respect that.  
What I can do for You:
Make you a fair offer 

Pay you immediate cash

Do for you a simple, pleasant transaction.  No dickering, bait and switch, or any such unprofessional and annoying behavior

Give you the option of being paid with precious metal bullion or other similarly highly liquid instruments

Do a discrete transaction.  Maybe first meet in an office downtown Portland, or a gun range

I always pay for the FFL dealer fee

You will deal with someone who knows what he is doing and is well connected

You will deal with a well established, reputable, downtown Portland professional

You will do the transaction in a great and safe location

After you are done, you will have no worries or regrets